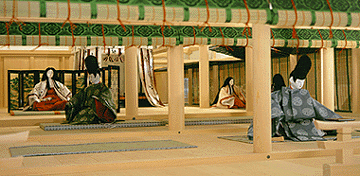 The Custume Museum is located close to the Nishi-Honganji Temple and is within a few minute walk of Higashi-Honganji Temple and the JR Kyoto Station. Surrounded by old shops dealing in Buddhism and antiques.
The streets in the area maintain the atmosphere of old Kyoto with its roofed mud-walls of Nishi- and Higashi-Honganji Temples.
If you ever have the time and are looking for something to do, make certain that you visit this area. You will find it very rewarding.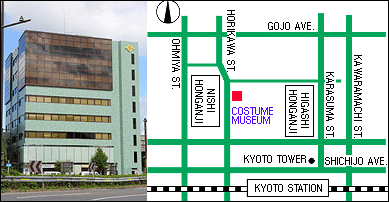 IZUTSU SAMEGAI BUILDING 5th Floor
Horikawa-Dori, Shinhanayacho Sagaru,Shimogyo-ku,Kyoto
600-8468
How to get there: At Kyoto Station, get on the No.9 city bus and ride to Nishi-Honganji-mae bus stop. The museum is a 3-minute walk from there.
Open: 10:00AM to 5:00PM
Holidays: Sundays and National Holidays.